by Karen Nemeth, Ed.M.

It is a truly awesome and difficult responsibility to be in charge of not only your family's well-being and your own work, but your child's education too. HITN Learning salutes what parents have been doing for months now, and in this article, we offer entertaining and educational options for helping organize your child's day.
With our special emphasis on Latino/Hispanic families, HITN and our contributors encourage you to enjoy all these activities with your child in English or Spanish or both. Raising bilingual children gives them a clear-cut advantage. Research tells us that growing up bilingual has no negative consequences for the child. In fact, there is evidence that it is beneficial to a child's ability to think. All our content is available in both languages to provide all the support you need.
Where to begin? Start by reading some advice about ways to help your child through this crisis. These short articles by experts in social-emotional learning will help you and your child feel more confident as you plan your learning and play time together.

CREATE A SCHEDULE
We know that many families are confused about how to fit all the terrific online activities into a typical day. HITN Learning has taken this opportunity to find the very best activities and games that will make it easy for you to plan your child's day and keep you both from feeling overwhelmed or being bored.
Many experts recommend that keeping a regular schedule can create calm for everyone because children will know what to expect. A schedule doesn't have to be so strict that it causes stress, but children thrive when there is structure to their day.
They sleep better on a regular schedule as well, and that supports positive behavior. Whether your child is a preschooler or an elementary school student, you can be successful in planning a positive day that is manageable for you and valuable for your child.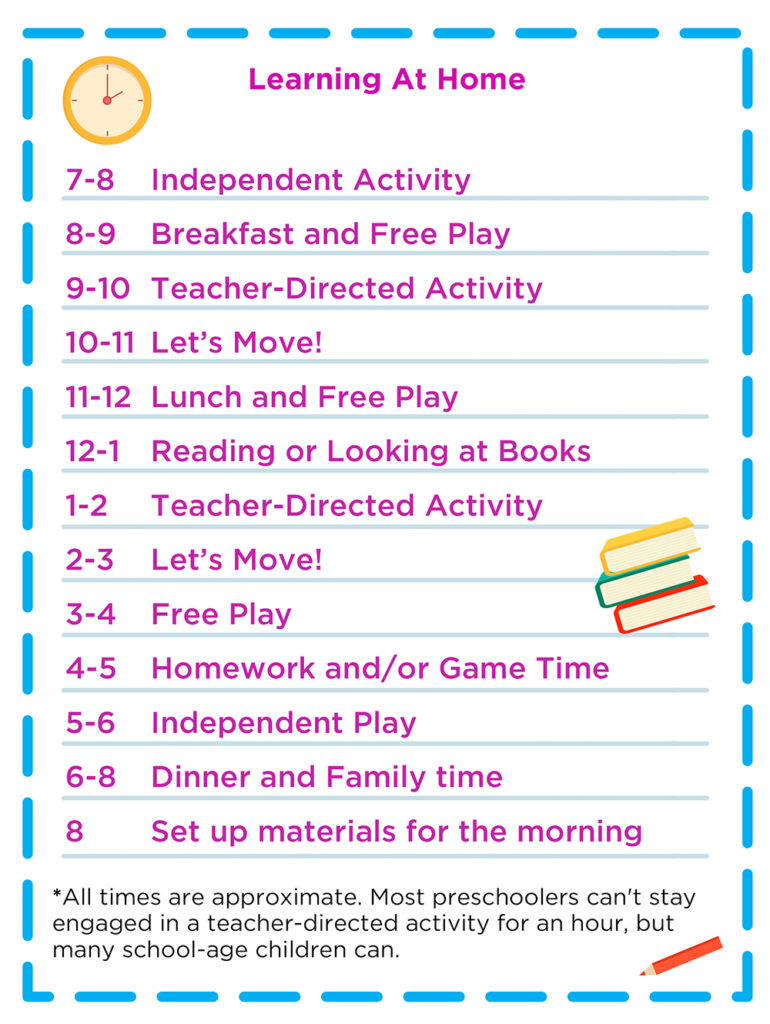 As the school year starts, there will be many changes. Some schools will schedule specific times when they expect your child to sign on and participate in an online class. In other cases, there may be reading or online assignments. You may need to build those into your schedule for your child. Learn as much as possible about what the school expects and what the school provides to support you and your child. Then, plan for the rest of their day to give your child some independent time and some family time.

BEGIN THE NIGHT BEFORE
When you think about planning a day for your child, here's a secret that is gaining popularity: start the night before!  Some families have success with setting up a craft or independent activity to be ready when their child wakes up in the morning. This strategy gives your child something to look forward to and shows them that they can count on you to plan a good day.
For preschoolers, pick a table or desk space and set out supplies your child can explore even if you are asleep or making coffee. For example – print out a few
If your child is in the primary or intermediate grades, they will enjoy listening to an author reading one of her own books in Spanish and in English. Try one of these:
All you have to do the night before is set your tablet or phone to the author's page on HITNLearning.org and when your child wakes up, it will be ready to watch. You might also have that book or another book by the same author (see our reading list: Books by Latina writers ready for your child to dive into when they have finished the video).
All these books are available as e-books at your local library, or at any of the online book sellers.
Be sure and set the Parental Controls on your device to help keep your child on track.

LET'S GET PHYSICAL!
Help your child get a good start to their day with some energy and, hopefully, some fresh air.

LUNCH TIME
Next, try planning and preparing lunch together. Meal planning is always a great science and math learning experience as well as a wonderful bonding moment for families.
Before you start preparing lunch for your preschooler, set out some pots and pans, plastic bowls, soup cans, and cereal boxes. Add a few metal and plastic spoons and you can start your own kitchen band with your child, while you both learn a lot about sound. Get the details in this article,
Over lunch, you could start a conversation with your school-age child about how they are coping with everything that is going on around them: lack of regular school, fewer opportunities to see their friends, people they know getting sick and possibly even passing away, or someone who has lost a job. For some help getting this conversation going, have a look at this article.
RECESS
Some children are ready for more physical activity after lunch.

READING, READING, READING!
Plan for reading time every day. It is good to do bedtime stories, but additional reading time will enrich your child's learning and help the day pass enjoyably. Depending on the age of your child, at least one book from these two reading lists just may spark their interest.
You can download books from your local public library or order them on Amazon or Barnes and Noble.

AFTERNOON ACTIVITIES
Later in the afternoon, you might want to have some together time where you engage with your child in some learning activities.

DINNER AND AFTER
As you all gather for the evening meal, take time for each member of the family to talk in Spanish and English about something they did during the day. This is a good way to help your child reaffirm what they learned and build their conversational language skills in both English and Spanish. For some tips on how to encourage your children to be bilingual, try reading one of these articles:
And, returning to play, always build in time each day for free play. If you have an early dinner, free play might be part of your after-dinner plan. Or you might make sure to have free play for at least an hour in the morning and/or after lunch. Read more about the value of free play here.
Finally, we have even more parental advice designed to make your child-rearing responsibilities a little less difficult during this pandemic. Here is a short list.
During this pandemic, learning at home is new and challenging, and many families are struggling. HITN Learning hopes that this gathering of Spanish/English activities, games, crafts, and learning-based content will help your family enjoy learning and playing at home in ways that will help everyone keep their sanity.
Let us know how this is working for you. We will make changes based on your feedback.
Please email your ideas to: education_editorial@hitn.org.

The secret to a peaceful, organized day at home with the kids? A SCHEDULE!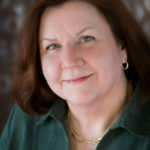 Karen Nemeth, Ed.M.