By Sandy Damashek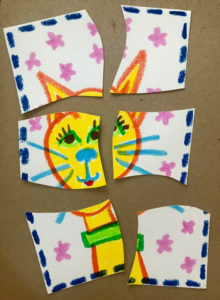 Here we are in the middle of summer!  Are you and your children having fun?   To add some zip to your life, we'd love to share two ideas for 3-6 year olds that put a new twist on tried-and-true activities.
If your child likes problem solving, try Puzzles & Patterns.  Discover how easy it is to make picture puzzles and share the joy of playing with puzzles you and your child create.
For a good dose of movement and laughter, try the Silly Step Dance.  Doing a dance offers children a perfect chance to create silly moves and sequences – and practice counting, too.  Simply line up your numbers (outside or inside) and start stepping out.
Both activities blend play and learning, and our Parent Tips offer age-appropriate prompts to help your child explore. As always, feel free to adapt the activities to suit your child.  Most importantly, be creative, experiment, get moving and have FUN!
Puzzles & Patterns!
(Problem solving, attending to visual details, motor skills)
Playing with puzzles is a perfect way to practice problem solving while exploring visual details such as shapes, colors, and patterns. By drawing and/or choosing favorite pictures, you and your child can create personal puzzles that are uniquely yours!
What You'll Need: Old magazines, cardboard for backing (e.g., cereal, cracker, or gift boxes, shipping cartons, etc.), craft glue, scissors. (Optional) Clear contact paper or lacquer to protect the pictures.
How To Prepare:  Make a 6-piece puzzle to use as a model.
Cut out a small picture from a magazine (a simple image with one or two big objects is best).
Glue the picture on a piece of cardboard. First spread glue evenly over the board, then, lay the picture flat on the glue and press down to remove any air bubbles. (If you'd like, cover the picture with clear contact paper or lacquer to protect it.)
After the glue dries, cut away any excess cardboard.
Flip the picture and draw 3 curved lines on the back of the board to divide the image into 6 parts. Cut along the lines to create 6 puzzle pieces.
Place the 6 puzzle pieces on the table. See if your child can recognize the object(s) in the picture. Together, point out clues such as familiar parts.
Challenge your child to put the 6 pieces together to complete the puzzle. Ask, "How can you put the pieces together to make a whole picture?"
Parent Tips (Problem solving, attending to details, motor skills):• Let your child try to solve the puzzle. If s/he needs help, point out matching colors, patterns, and outlines and show how to slide or turn the pieces until they fit together.
Next encourage your child to choose a new magazine picture and make a second puzzle. Working together, follow the same steps you did to make your model and put the pieces together.
Parent Tips (Problem Solving, attending to details, motor skills):
• Simple pictures with bold illustrations and colors work best (e.g., one or two people, animals, plants, vehicles, etc.).
• For younger children, start with fewer pieces. For older and more skilled children, divide the picture into more pieces and make them smaller.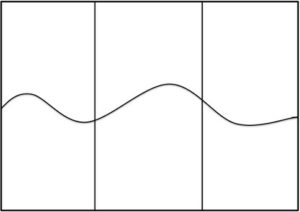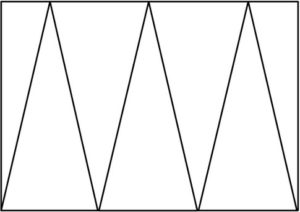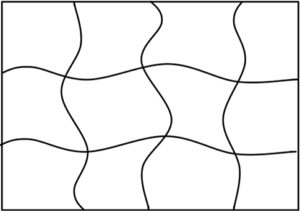 • Remember, a homemade puzzle is … homemade! Don't worry if the glue is a little messy and the lines aren't perfectly cut or drawn! Let your child do as much as possible; jump in when necessary.
3. Homemade puzzles make great cards and gifts! Make more puzzles using pictures from coloring books, your child's original artwork, and family photos.
Silly Step Dance!
(Movement, Motor Skills, Counting, Sequencing)

Children love being silly.  That's what the Silly Step Dance is all about!  Children use their imagination to come up with different ways to walk, wave, and wiggle – and remember and count the moves they make. The more moves, the merrier!
What You'll Need: (For outdoor play) Chalk (For indoor play) String or yarn, index cards, marker (optional)
How To Prepare: if you are playing outdoors, use chalk to draw numbered hopscotch boxes or a simple number line with equally spaced numbers.  If you are indoors, stretch a long string or piece of yarn across the floor.  Write one number on each index card and line up the cards in sequence next to the string/yarn
What to Do:
Challenge your child to walk, hop or jump to number 1, and do one silly move.
Next, have your child jump to number 2 and do the same silly step two times (while counting aloud). Challenge your child to keep hopping from one number to the next (counting to be sure his/her moves match each number) until the silly dance is done!
Parent Tips (Movement/Motor Skills)
• Any move counts. If your child thinks a move is silly, it is!
• If your child has trouble coming up with a move, model one (e.g., wiggle your hips, spin around, flap your arms). Describe each action and let your child move with you. If you'd like, give each move a name such as the Super Spin-Around or the Flappity-Flap!
• Older children may like counting aloud without your help. If your child needs prompting, count together.
Here are some other ways to play:
• Jump to #1 and do a silly move. Jump to #2 and do a different move two times. Jump to #3 and do a third move three times, etc.
• Jump to # 1 and do a silly move. Jump to #2 and do the first move PLUS a different one. Jump to #3 and do the first two moves PLUS one more, etc.
• Try playing with animal moves (waddle like a duck, jump like a frog, fly like a bird, tiptoe like a cat, etc.).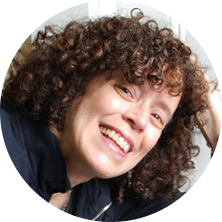 Sandy Damashek has been crafting children's educational media for many years. She began her career at Children's Television Workshop where she developed Sesame Street toys and games and helped launch CTW's Interactive Group and Sesame Place. Sandy's experience includes creating interactive movies and television, museum exhibits, children's books, and countless playthings. Sandy has a Master's Degree in education from Harvard University.