By Liliam Perez, Doctor of Education
As parents, we always want to give our children what we believe is best for them. Some of us, however, feel pressured because we feel we must keep our children occupied all the time. The pressure may come from seeing other parents enrolling their children in many structured activities, even outside of school. In the same way, we also see how our friends give their children many electronic toys and access to technology, and we follow their example. That limits our opportunities to communicate and interact with our children.
As a result, the lack of physical and mental free play is limiting children's development of imagination, social skills, and other skills, which are necessary to excel and succeed in a world that's increasingly stressful and competitive.
Free play is very important to facilitate learning in children. Playing is a natural process for children where they discover cause and effect, and the hows and whys of the world around them. Through creative play, for example, the child not only feeds his/her curiosity but also learns to observe, compare, collect information, predict what will happen, imagine possibilities and confirm the results of his/her play.
Studies indicate that free and creative play gives children a healthier, happier, and more relaxed life. With love, parents can facilitate these play opportunities for their children.
Here are some suggestions on how to support children's free and creative play:
Create a safe and supervised space to play. A safe, no-hazard play area allows children to develop initiative, creativity, and risk tolerance. If interior spaces have potentially dangerous objects, consider closely supervising your child's play to avoid accidents.
Provide varied and safe accessories that arouse curiosity and imagination. It is essential to have a variety of colorful toys and materials that children can use in different ways, depending on their imagination. For example, empty cardboard boxes of different sizes, animal figures, recyclables, and other similar objects promote the use of imagination, curiosity, and creativity, and encourage initiative in children.
Set aside specific time for free play. Assign a part of the day or an afternoon so that your children can decide how, with what, where, and with whom they want to play. Letting them choose promotes their autonomy and develops their self-confidence. In addition, setting a specific time for free play emphasizes its importance.
Plan play opportunities with other children. Encourage your children to invite their friends to play. If your children are young, invite your friends who have children of similar ages so they can play together. This is important because by socializing through play, children learn to negotiate, share, communicate, and be part of a community. They will begin to form friendly relationships and support systems that can last a lifetime.
Look for outdoor free play opportunities. Outdoor recreation is important for the physical and mental health of children. Outside, children can release their energy, move freely, have direct contact with nature, and explore their physical abilities.
Create opportunities to reaffirm the identity of the child and their family. Introduce children to the games and toys of our cultures, traditions, and customs, giving them more variety to choose from. Identifying with their roots and culture through traditional games helps children recognize their origins. It empowers them and highlights the value of the family, community, and society to which they belong.
Explore free play yourself through your children. As parents, we owe ourselves the opportunity to enjoy the childhood of our children. Children grow very fast, and in the same way that we protect our children from the stress and pressures of life, we must also give ourselves opportunities to get out of our routine and enjoy playing and sharing quality time with our children. Give yourself permission to be a child again with your son or daughter. When you play with your children, you maintain a broad and positive outlook on life, apart from strengthening the ties that will bind you to your children even more.
In short, play for play's sake without structuring  – without specific goals or agendas – is beneficial for the integral development of children. Get involved in free play with your children! Let yourself go; laugh with them. Pretend to have that little cup of tea or let the best doctor in your house take your pressure. In doing so, you will not only be supporting the development of your children but also creating unforgettable memories full of love and satisfaction for you and your children.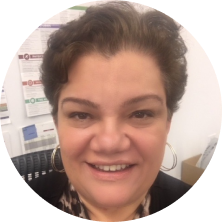 Dr. Liliam Perez is an Early Childhood Practice Consultant for Lead Learn Excel, an Educational Leadership Fellowship offered by The Ounce of Prevention Fund. Prior to working for The Ounce, Liliam was an early childhood quality assessor for the state of Illinois at the McCormick Center for Early Childhood Leadership of National Louis University. Liliam is also a former Head Start Director, online professor for University of Cincinnati and Adjunct professor for Morton Community College in Illinois.