By Liliam Perez, Doctor of Education
Values and rules are the first laws that our children learn at home and are the foundation for raising respectful citizens. As parents, we have the vital task of teaching our children to participate in a world that goes beyond the walls of their home, and that includes people who are not part of the family, but who are part of their community.
It is important that preschool children learn to recognize their emotions and know how to handle them positively. As parents, we may ask ourselves, how do I teach my children to recognize their emotions? Parents need to pay attention to the children's behavior and help them identify and name their feelings and moods. You can watch your child and tell him or her when he/she looks happy, nervous, scared, sad, tired, sleepy, hungry, thirsty, angry, or bored. Identifying how they feel is important to children because only then they can learn to ease their feelings and feel better. For example, if your child knows he is tired, he will take a break. If he is sleepy, he can sleep awhile. In the same way, if the child recognizes that is hungry or thirsty, he/she will be able to eat or drink; or if nervous, he/she can take slow, deep breaths or ask an adult for help, who can encourage and help the child  regain his composure.
It is also crucial for children to practice abiding by rules and limits, as well as respecting the authority of the person who supervises their well-being. This education starts at home before the little ones start going to kindergarten. A natural way to introduce our children to the rules is by showing them our values. For many of us, a good education and good manners or rules of courtesy are important values. Greeting, respecting our elders, asking for permission instead of pushing, saying please, and thank you are some examples that they learn at home, and they practice first with the family.
Establishing rules of courtesy or discipline with our children is a process of love, patience, persistence, and effort on the part of parents. Here are some suggestions for how to introduce rules and limits to your preschool-age children:
Communicate the rules simply and clearly. For example: "Remember that we should say please when we ask for something and thank you when we receive something."
Be a role model to your child of how to follow the rules. For example: "Can you get me the green shoes, please? Thank you for bringing me the shoes!"
Remind your child of the rules as many times as necessary. For example, if your child says, "Mommy, I can't button my pants, button me," you can remind her of the rule by saying, "Do you remember how you should ask for things?" to which the child must answer "please." Wait for the child to repeat the phrase and acknowledge her effort saying, "that's right, you said please; very well!" Over time, the rules become customary, and your child will do it effortlessly.
Be patient and perseverant. Sometimes your child will be tired or frustrated and may have a harder time following the rules. Let the child know that you understand how he/she is feeling and help him/her identify the feeling (tired, frustrated, angry, etc.). Stay calm and suggest a way to ease the feeling. For example: "I'm sorry, I think you are tired. Do you want me to cuddle you in my arms, or do you want to rest on the couch for a moment?" Over time, she will learn to find ways to calm down, without depending on you.
Redirect the child's behavior and communicate acceptable options with calm and firmness. For example, your child likes to play ball, but there are fragile things inside the house, and you want to avoid accidents. A viable rule of thumb may be giving him the option of playing with a softball in his bedroom or with a ball on the yard. This way, it will be much easier for your child to choose and stick to the rule without sacrificing his/her favorite pastime.
Guiding the behavior of our children and teaching them to control their impulses requires love, patience, and perseverance. Learning to abide by rules, limits, and authority helps us maintain a positive relationship between parents, children, and siblings, and prepares the children to be responsible citizens who will cultivate a satisfying and enjoyable life for the entire community.
What courtesy rule, cultural value, or discipline rule would you like to practice with your children?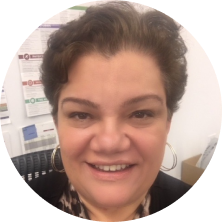 Dr. Liliam Perez is an Early Childhood Practice Consultant for Lead Learn Excel, an Educational Leadership Fellowship offered by The Ounce of Prevention Fund. Prior to working for The Ounce, Liliam was an early childhood quality assessor for the state of Illinois at the McCormick Center for Early Childhood Leadership of National Louis University. Liliam is also a former Head Start Director, online professor for University of Cincinnati and Adjunct professor for Morton Community College in Illinois.