By Adrián Pedroza, Abriendo Puertas
What comes to mind when you hear "let's get ready for school?"
Do you think of school supply shopping, first day of school outfits, packed backpacks, or drop-off and pick-up arrangements? Do you feel anxious as some children start school for the first time and others transition to different schools?
As a parent of three children, my family has experienced all these thoughts and feelings in getting our children ready for school.
Now, what if I asked the question specifically about preschool and kindergarten: "What does it take to get our youngest children ready for school?" Many of the ideas above still apply. However, this question requires us to think more deeply about what we, as parents, need to do in the first five years of our child's life to prepare them for school and life-long learning.
As a leader at Abriendo Puertas/Opening Doors, I am very familiar with the research that tells us children are born ready to learn. We know that the home is a child's first classroom, and parents are their first teacher. By creating a supportive and nurturing learning environment for children during their first few years, we support the most basic and important processes of brain development.
The way we, as parents, interact with our children in the earliest years is the strongest indicator of their readiness for school. Over the last two decades, research on early childhood brain development has established that 90 percent of brain development occurs within the first five years of life. This is impacted by parents' and caregivers' behavior such as:
frequently using our home language with children starting at birth;
building curiosity in our children through play by asking them questions and fully engaging their senses;
interacting with our children and guiding them to recognise shapes, colors, and letters; and
reducing stress around our children and in the household.
When we do these things, not only are we building a strong foundation for our children, we are also becoming informed about their learning. This prepares us as parents to play an important role in selecting a high-quality educational environment that is suitable for them. Each of my three children learns differently. Through our efforts at home, we identified what type of educational environment might work best for them in terms of school, classroom, and even teacher.
Each community will offer different options and types of early education programs. As a parent, it is important to understand what is available before making a decision about what school is right for your child. In exploring what matters to you in selecting a school, ask yourself:
What are some of the memories I have about my first days of school?
What are the top three things that matter most to our family when choosing a program or school?
What programs or schools are we considering, and why?
My own exploration about how I felt on my children's first days of school, both positive and negative, pushed me to think deeply about the type of quality learning environment we all seek for our children. Additionally, I encourage you to take these three steps in selecting a preschool or elementary school:
Find out the options available, such as traditional public, charter, private, or specialised schools. This process should start early since some school enrolment deadlines are in the spring before the school year.
Think about the needs of your child and family, including learning styles, language development, health needs, before and after school care, transportation, etc. I encourage you to select the top three things that matter most to you when choosing a school.
Find out more about the school or program through activities such as tours, open houses, websites, meetings with teachers, and discussions with parents/students. Observe how the staff and teachers interact with the children during school visits.
NOTE: For more information about getting your child ready for school, see these guides from Abriendo Puertas/Opening Doors in Spanish and English.
A child's success at school is based on a partnership between the parents and the school. As parents, getting our children ready for school means that learning starts first at home. When we better understand our child's needs, we are better prepared to be their strongest advocate. Getting ready for school starts with us. "Lo que bien comienza, bien acaba."
Adrián Pedroza
National Director of Strategic Partnerships
Abriendo Puertas/Opening Doors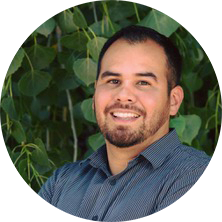 Adrián Pedroza
is the National Director of Strategic Partnerships for Abriendo Puertas/Opening Doors (AP/OD). Previously, Adrián served 10 years as Executive Director of the Partnership for Community Action in New Mexico. There he adopted AP/OD as a core program that proved to be the gateway for Latino parent community engagement. In 2010, President Barack Obama appointed Adrián to the President's Advisory Commission on Educational Excellence for Hispanics, leading to six years of national focus on early childhood education. In 2012, Adrián received the Excellence in Education Award from the National Hispanic Caucus of State Legislators. In 2013, he was selected to be a part of the WK Kellogg Foundation Community Leadership Fellowship Program- where he's working with diverse leaders to strengthen networks and communities to become vigorous advocates for vulnerable children and their families.