Children grow up seeing a lot of people focusing on their phones and screens and it can feel isolating to a child. I like to think of creative ways that technology can bring people together. It is especially important to show children that using technology is not always a solitary experience – it can be a great social tool as well.
You can use your tablet or phone to play games or do creative activities together with your preschooler. Older children can use devices to communicate with family members or to look up interesting topics they are discussing with a parent or friend.
Digital devices have a lot to offer families who are interested in learning languages together. Technology can also be used to help children learn important skills they need for school success, such as collaboration and communication. Digital devices put information at your fingertips and instantly support your conversations as you learn together with your children.
Here are a variety of activities to try with children of different ages that change technology from a passive solo activity to an active and interactive learning activity:
Use a story-making app to create your own story together. Some apps allow you to work together to draw, type, import pictures, and record voices so they can be used in any language you choose. Try Draw and Tell or Toontastic.
Search for tutorial videos on Youtube.com that help you learn a new skill or game together. Try learning a new recipe or making an art project. Learn the words to a fun song you both like and practice dance moves together. Learn skateboard tricks or ways to repair things. The possibilities for learning and togetherness are practically endless.
Plan to have conversations with friends and family members who live in different places. Using Skype, Facetime, Zoom, or other video chat platforms, you and your child can have a conversation in Spanish with your family in another country.
You could plan a time for you and your child to entertain a younger cousin in another state using puppets and songs. Your child could practice their reading skills by reading stories to a relative who lives in another state or country.
Download language learning apps such as Rosetta Stone, Duo Lingo, or Mango Apps and spend some time with your child learning a new language. As you learn new words, try using them while playing together, in dinner conversation, or to add new words to favorite stories or books.
Collaborate on creating works of art. Use the drawing and editing features on your device to draw a picture together and print it out for framing. Or, record songs and videos together. Create designs to print out on transfer paper to make matching t-shirts.
Visit www.commonsensemedia.org to get some ideas for age appropriate two-player games. They rate the learning value of the apps and often tell you which languages the apps offer.
If you are feeling really energetic, plan a real or imaginary trip together. One rainy day, my grandchildren and I picked a far away location and we spent the whole day pretending to go on vacation. We looked up the weather and activities at the location. We typed up packing lists. We learned some vacation words in the language of our destination. We printed out scenes from the vacation place and made posters. Then we dressed up to take pictures in front of our scenic posters. We even looked up recipes and tried making some of the foods for our lunch. That was so much fun! And there's no reason why you couldn't have just as much fun using technology together with your child to plan a real trip for a week or just for an afternoon.
When you use your digital devices as tools for togetherness, you and your child can both learn so much, in whatever language you choose to use. Let their creativity lead the way!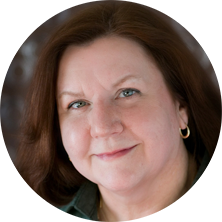 Karen Nemeth, Ed.M.
is an expert in first and second language development and early learning and she hosts a well-known resource website at www.languagecastle.com. She has written more than twelve books and many articles for teachers, leaders, and families, including her newest book – Families & Educators Together: Building Great Relationships that Support Young Children. She works with many programs, schools, and organizations as a consultant and presenter throughout the U.S. and other countries.