By Karen Nemeth, Ed.M
Wondering what do when you are confined inside with your children? Start with family photos. Those pictures are filled with people, places, and things that preserve memories. And, they give everyone a lot to talk about in English and/or Spanish. Here are some great ways to use photos to make fun learning activities that are engaging for all ages.
Create a collection of photos showing family members at the same age that your child is now. Notice the difference in clothing, hairstyles, and objects in the background.
Find photos that show different family celebrations over the years. How have things changed? How have they stayed the same? Take the opportunity to talk about the details of how your family likes to celebrate. What is the role of religion? What kinds of foods are saved for special occasions? How does everyone like to spend the time? What decorations make the celebration festive? These are important ways to preserve family traditions and the languages that go with them.
Print or copy photos of a trip or experience you had with your child. So often, adults take a lot of pictures and show their friends on social media or on their phones, but the children who enjoyed the experience don't have access to those memories like we do. When I took my grandson to the big car show in the city, I printed the pictures of us trying out all the amazing cars and put them in a little photo album for him to keep on his own bookshelf. Sometimes he pulls it out himself, and sometimes we talk through the pictures instead of reading a bedtime story.
Cut out photos of people and tape them on to blocks or small boxes so they become characters in your children's block play, Lego buildings, or pretend time.
If you have a printer or copier, there are lots of crafts you and your children can make with copies of photos. Search online to order printable materials. For example, you can buy sheets of printable magnets that fit in your printer and you can make your own magnets for home or gifts. Print fun photos on fabric transfer paper and iron on to a t-shirt or other fabric. Copy a pretty picture onto tissue paper that can be decoupaged onto a candle, glass jar, or decorative box. You can even use pictures to make jewellery.
Take your children on a tour around your home to look at photos on your walls or tables. Do they know the names of all the people in the photos? You might even print photos to make a family tree display to help your children remember the people and relationships.
Make a study of places with your photos. See if you can find photos of the same place during different seasons. Or, look for photos of a place to see how it has changed over the years. This is a great way to give your children a sense of place and historical context to talk about.
Share photos and the stories that go with them during a video chat with family members. Take notes in English and/or Spanish to save the wonderful family stories that bring you all together across the miles.
Print copies of photos to make into games and activities for your children. You can make a memory game by printing two copies of each picture. Or glue an attractive photo onto some cardboard and cut apart to make a simple puzzle. Make a guessing game or scavenger hunt by asking children to look at a whole collection of photos and find an animal, or a person wearing glasses, or a baby, or a fur coat, or anything you think will be fun.
For older children, it is fun to create funny captions for old photos. For younger children, you can make a simple storybook by putting just a few familiar pictures in the plastic pages of a little album.
You can use these fun family activities to build in some valuable literacy time. Older children can write stories about the pictures in English or Spanish. Younger children can practice writing the names or you can print labels for the pictures and help them learn to read the words.
Isn't this a great selection of activities that you can do right now without leaving your home? Your whole family – even the ones who participate by video chat – can have fun and grow closer by sharing all the memories that make your family special.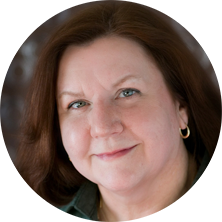 Karen Nemeth, Ed.M.
Is an expert in first and second language development and early learning and she hosts a well-known resource website at www.languagecastle.com. She has written more than twelve books and many articles for teachers, leaders, and families, including her newest book -Families & Educators Together: Building Great Relationships that Support Young Children.She works with many programs, schools, and organizations as a consultant and presenter throughout the U.S. and other countries.