Children can explore and learn English language, literacy and math skills with the help of 15 immersive apps known as the Pocoyo Playsets.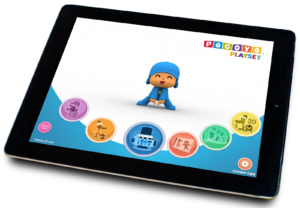 Available for iPads, these Parents' Choice Award-winning apps encourage children to join with world-famous Pocoyo and his friends as they explore, learn and apply new vocabulary and concepts through videos, stories, songs, puzzles and interactive games. While Pocoyo Playsets can be used for independent play, content learning and language development are optimized when children play with other children or an adult.
Research has demonstrated that children engaged with Pocoyo PlayGrounds and Playsets assimilated learning significantly better than children interacting with other resources.
Playsets include:
My Day
Weather & Seasons
Community Helpers
Math Fun Park
Colors
Number Party
3D Shapes
Feelings
Let's Count!
My 5 Senses